Captain Phantasm and the Countdown to Doom

---
Captain Phantasm and the Countdown to Doom! is a celebration of the dramas from "The Golden Age of Radio" like The Shadow and Dick Tracy.
In this story, our hero races against time to uncover the sinister plot of the mysterious villain, The Brain, who is set on the destruction of Metroville City!
So kids! Gather round and set your decoder rings on "adventure" as Captain Phantasm comes face to face against the Countdown… to DOOM!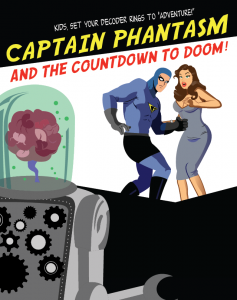 Cast & Crew
2 women // 2 men
6-10 extras
Details
Full-length play; 2-3 Acts
Melodrama, Comedy
Approx. Run Time: 90 min.
Variations: With and without sing-a-long introduction.
Performance Group
Professional Theater, High School, College Theater, Dinner Theater
Production History
Pocket Sandwich Theater, Dallas, Texas
---
---